Welcome to the ASIAN ENT CARE CENTRE, a leading establishment in Hyderabad dedicated to advancing the field of Otorhinolaryngology (ENT) and introducing innovative treatment methods previously unavailable in India. Led by Dr. Chava Anjaneyulu, the Chairman of Asian ENT Care Centre, our primary mission is to pioneer research-oriented diagnostic and therapeutic practices in ENT, making top-notch treatment accessible and affordable to all.
As one of the finest and largest private Ear, Nose & Throat Hospitals (ENT) in Hyderabad, our reputation stems from the exceptional care and treatment provided by our renowned surgeons and skilled staff. We are proud to offer a friendly atmosphere and outstanding service to every patient who entrusts us with their ENT health.
Equipped with state-of-the-art operation theater specifically designed for a wide range of ENT and Head and Neck operations, our hospital is fully equipped to meet the needs of our patients. Our Outpatient Department is dedicated to conducting necessary investigations, ensuring accurate diagnoses and personalized treatment plans. Dr. Chava Anjaneyulu provides round-the-clock specialist services to cater to the diverse needs to all the patients.
Join us at the ASIAN ENT CARE CENTRE as we strive to transform the ENT landscape in India, keeping pace with the latest advancements and making significant contributions to the field. Experience our commitment to excellence and compassionate care as we work towards a healthier and happier society.
Meet our team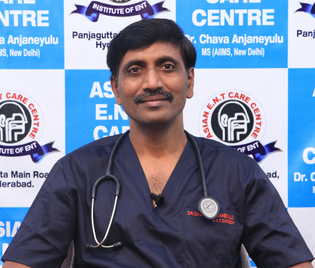 Dr. Chava Anjaneyulu
EXPERT EAR, NOSE AND THROAT SPECIALIST
Dr. Chava Anjaneyulu is a highly skilled and accomplished Ear, Nose, and Throat (ENT) specialist. With a strong academic background and years of experience, he has gained recognition for his expertise in the field. Dr.Chava Anjaneyulu completed his MBBS from NTR Health University, Andhra Pradesh, India in 1996, followed by an M.S. in Otorhinolaryngology from the prestigious All India Institute of Medical Sciences, New Delhi, India in 1999.
Specializing in various areas, Dr.Chava Anjaneyulu is skilled in micro ear surgery, phonosurgery, nasal endoscopic sinus surgery, airway surgery, skull base and head & neck surgery. He also performs transnasal procedures for orbital problems, dacryocystorhinitis, optic nerve decompression, and more.
Dr. Chava Anjaneyulu's contributions extend beyond patient care. He has conducted surgical workshops on endoscopic DCR and endoscopic sinus and skull base surgery. He has also organized national seminars, including the Vertigo Update, and has presented numerous papers, articles, and case reports at various conferences and workshops across India. His studies and research have been published in national and international journals.
As a testament to his dedication to the field, Dr. Chava Anjaneyulu holds life memberships in prestigious ENT professional organizations such as AOI, ISO, and Phonosurgeons of India. His passion for delivering exceptional ENT care, along with his extensive experience and contributions, make him a trusted and respected specialist in his field.
---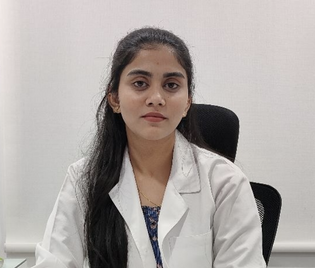 Ms. NIVETHA
BASLP
Ms. Nivetha is a highly skilled and certified Audiologist and Speech Language Pathologist with 5 years of valuable experience in the field. She specializes in working with patients who have speech and hearing disorders, providing comprehensive rural case management, audiological diagnostics, hearing aid dispensing, and habilitation/rehabilitation services for patients of all ages.
With expertise in diagnostic audiology, auditory processing evaluations, tinnitus management, and hearing aid and assistive listening device fittings, Ms. Nivetha ensures that her patients receive the best possible solutions for their hearing needs. She is well-versed in BAHA (Bone Anchored Hearing Aid) fittings, vestibular testing, and rehabilitation.
In addition to her audiology work, Ms. Nivetha is proficient in speech and language therapy. She offers specialized care for voice disorders, fluency issues, and adult neurogenic disorders, helping patients regain their communication abilities and enhance their quality of life.
Ms. Nivetha holds certifications from reputable organizations, including the Rehabilitation Council of India (RCI) and the Indian Speech and Hearing Association (ISHA). These certifications validate her qualifications and ensure that she meets the highest professional standards in her practice.
With her expertise and dedication to patient care, Ms. Nivetha is committed to making a positive impact on the lives of individuals facing speech and hearing challenges. Her compassionate approach and comprehensive services make her a trusted professional in the field of audiology and speech language pathology.
---
Mr. Kanivena Naveen Yadav
Social Media Executive
Roles & Responsibilities @ Asian ENT Care Centre
As a Social Media Executive at Asian ENT Care Centre, I also contribute to our online presence by creating engaging and informative content that educates the public about our services and promotes our commitment to exceptional patient care. Through various social media platforms, I aim to reach a wider audience and foster a sense of trust and credibility in our institution.
In my multifaceted role, I strive to provide excellent support and assistance to our patients and their families, ensuring a smooth and positive experience at Asian ENT Care Centre.
NARENDRA KUMAR SIKHAKOLLI
ACA, MBA
S.narendra Kumar Is A Chartered Accountant , Is Having More Than 10 Years Of Experience In Accounts , Audit A nd Financial Department .he Is Working As A Accountant Consultant In The Areas Of Accounts And Finance Of Asian ENT Care Centre.
MBA from Acharya Nagarjuna University in 2006 with 65% marks.
Com from Mahatma Gandhi Degree College, Guntur , Nagarjuna University from 2000 – 2003 with 64% marks.
Intermediate from Mahaveer Junior College, Guntur from 1998–2000.
S.C from Municipal High School, Narasaraopet from 1997–1998.