Audiological & Speech Services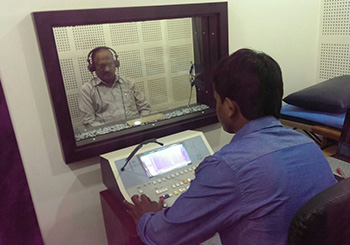 Speech Services
The Speech Language Pathology wing under Department of Audiology and Speech Language Pathology provides diagnostic services as well as therapeutic management for various speech and language disorders. The services are available to paediatric as well as adult population and uses standardised test tools. The evaluation procedures are carried out by experienced Speech Language Pathologists.
Speech Language Diagnostics
The department is dedicated to evaluation and diagnosis of speech and language disorders in pediatric as well as adult population. Speech disorders can occur as a problem with articulation of speech sounds, dysfluent speech/stammering and can also manifest as voice problems. Speech disorders can be present alone or in conjunction with other neurological disorders like dysarthria, apraxia, cerebral palsy etc.

Speech Assessment Tests
Stuttering Severity Index
Stuttering Prediction Instrument
Photo Articulation Test
FrenchayDysarthric Assessment
Apraxia Battery for Adults
Speech Voice Analysis system
PRAAT
Proforma – CP, Voice, Fluency, Laryngectomy, Cleft lip & Palate.
Language problems are seen in both adults and children. In adults it occurs usually after neurological insult like in case of stroke/ accident/ blow to head/ old age. In children language delays/ deviancy etc may occur alone as in case of Specific Language Impairment or it can occur as a result of conditions like Cerebral Palsy, Mental Subnormality, Autism Spectrum Disorders, Hearing loss etc.
Language Assessment Tools
Boston Diagnostic Aphasia Examination test
Western Aphasia Battery
Receptive and Expressive Emergent Language Scale
Scale of Early Communication Skills
3 Dimensional Language Acquisition Skills
Childhood Autism Rating Scale
Revised Token Test
Test of Language Development
Linguistic Profile Test
Autistic Behavior Composite Checklist and Profile
Illinois test of Psycholinguistic ability
Assessment of Language Development
Modified Checklist for Autism in Toddlers
Speech Language Therapeutics
Speech and Language Therapeutics department is a well-established department that provides habilitative and rehabilitative treatment services. We provide quality clinical services to adults and children with.
Language and speech disorders secondary to cleft palate, cerebral palsy, autism, hearing loss, cognitive disorders, learning disabilities.
Language or speech difficulties following brain damage such as stroke or any head
Speech difficulties after surgical removal of tongue or larynx
Voice disorders
Hearing loss
Swallowing disorders
Book Appointment